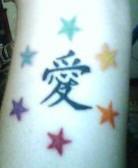 We are a small tattoos company out of Chamblee Ga. We are a home based buisness. We believe working out of our home makes it a more peacefull enviorment. We are located at
3194 Laventure Drive
Chamblee Ga 30341
Our number is 770-936-8990 or 678-907-3024
Please check out our site and enjoy.


PLEASE CHECK OUT OUR PICS
SPECIAL THANKS TO:
MY MOM PAMELA, STEVE(ERIC'S DAD), CURTIS(MY SON) MANDI .V MY NEW BEST FRIEND


FIND OUR PICS ON MYSPACE.COM/WHITEBREAD_BABYTEE
WE HAVE PHOTOS OF OUR WORK, DESINS WE HAVE. AND A PRICE LIST FOR BASIC TATTOOS.
FEEL FREE TO LOOK US UP AND ENJOY ALL OUR PHOTOS
ALL YOU MAY WANT TO KNOW ABOUT US:
WE ARE A SMALL COMPANY. THE OWNER IS ERIC LEIS. THE ARTIST IS TABITHA SMITH. WE HAVE BEEN IN BUSINESS FOR 2 YEARS. HOW WE STARTED WAS COOL. ONE DAY WE WERE SITTING AROUND THINKING ABOUT GETTING A TATTOO. AND I WENT TO A SHOP AND IT FELT SO COLD. LIKE I WAS IN A HOSPITAL. SO I WAS THINKING IF I FEEL THIS WAY MAYBE OTHER PEOPLE DO TO. SO I THOUGHT IF YOU MAKE A PLACE WHERE PEOPLE FEEL AT HOME. WHERE THE CAN RELAX AND FEEL AT EASE. I WORKED FOR A WHILE TRYING TO MAKE SHOPS PERSONAL. AND IT NEVER HAPPENED. SO WHEN I GOT HOME I SAID I WOULD MAKE IT WORK. AND SO I PUT A SMALL SHOP IN MY HOME FOR FRIENDS TO COME TOO AND MY FRIENDS SAID THAT THEY LIKED GETTING TATTOOS IN MY BASEMENT BETTER THAT AT ME SHOP. THAT THEY FELT RELAXED. SO I KEPT THE SHOP FOR A WHILE BUT MY CUSTOMERS KNEW ABOUT THE SHOP AT MY HOUSE. THEY CAME OVER AND ENJOYED MY HOME ATMOSPHERE BETTER THAN THE SHOP SO IT STAYED
OUR EMPLOYEES
OWNER AND TATTOO ARTIST: ERIC LEIS AKA WHITEBREAD
TATTOO DESIGNS AND ARTIST: TABITHA SMITH AKA BABY TEE
PREP WORK: SARAH SWEAT AKA LIL' BABY GIRL
CLEAN UP: SARAH SWEAT
FRIENDS THAT NEED MENTIONING. THEY PLAYED A BIG PART IN BUIDING OUR COMPANY...
CLARENCE COMER A.K.A. CRAZY COWBOY
MANDI V. A.K.A. LIL' BIT OF CRAZY
ASHLEY LANE A.K.A. ASH THE CASH
HEATHER LANYON A.K.A. H TO THER
WANDA SWEAT A.K.A. HURLEY
SARAH SWEAT A.K.A. SARBEAR
C.C. A.K.A. CHRISTY
REZIN A.K.A. THAT CAT (SHE'S OUR CAT)
TIM WILSON A.K.A. RIDIN' DIRTY
CURTIS COLE A.K.A. DIRTY SOUTH PIMP
OUR FAMILY:
ERIC'S FAMILY
MOM KAREN, DAD STEVE, KIDS SHAYNA, JORDAN, D.J. LEANNE,
TABITHA'S FAMILY
MOM PAMELA, DAD MIKE, KIDS CURTIS. LEANNE, KAHLUB
RULES:
#1. IF YOU HAVE NO I.D. THAN YOU GET NO TATTOO.
#2. ALL MINOR CHILDREN MUST BE HAVE SOMEONE OTHER THAN THE CLIENT TO WATCH THEM.
#3. ALL CLIENTS MUST SIGN A RELEASE FORM.
#4. ALL CLIENTS MUST REMAIN CALM. IF YOU ARE TO EXITED IT MAY CAUSE PROBLEMS FOR THE TATTOO ARTIST.
#5. WE CAN REFUSE DO SERVE ANY ONE FOR ANY REASON.
#6. YOU MUST BE 18 TO HAVE A TATTOO OR PEIRCEING PROVIDED BY US.
#7. YOU CAN NOT SEEM TO BE UNDER THEINFLUENCE OF ANY TYPE OF ALCHOL OR DRUG.
RELEASE FORM ALL CLIENTS MUST READ AND SUGN BEFORE BEING SERVICED:
That I, ______________________________ (clearly PRINT your name) have been fully informed of the inherent risks, associated with getting a tattoo. I fully understand that these risks, known and unknown, can lead to injury, including but not limited to infection, scarring, difficulties in detecting melanoma and allergic reactions to tattoo pigment, latex gloves, and/or soap. Having been informed of the potential risks associated with getting a tattoo, I still wish to proceed with the tattoo application and I freely accept and expressly assume any and all risks that may arise from tattooing.

TO WAIVE AND RELEASE to the fullest extent permitted by law each of the Artist and the Tattoo Studio from all liability whatsoever, for any and all claims or causes of action that I, my estate, heirs, executors or assigns may have for personal injury or otherwise, including any direct and/or consequential damages, which result or arise from the application of my tattoo, whether caused by the negligence or fault of either the Artist or the Tattoo Studio, or otherwise
That both the Artist and the Tattoo Studio have given me the full opportunity to ask any and all questions about the application of my tattoo and all of my questions have been answered to my total satisfaction
The Artist and the Tattoo Studio have given me instructions on the care of my tattoo while it's healing, and I understand them and will follow them. I acknowledge that it is possible that the tattoo can become infected, particularly if I do not follow the instructions given to me. If any touch-up work to the tattoo is needed due to my own negligence, I agree that the work will be done at my own expense
am not under the influence of alcohol or drugs, and I am voluntarily submitting to be tattooed by the Artist without duress or coercion
I do not have diabetes, epilepsy, hemophilia, a heart condition, nor do I take blood thinning medication. I do not have any other medical or skin condition that may interfere with the application or healing of the tattoo. I am not the recipient of an organ or bone marrow transplant or, if I am, I have taken the prescribed preventive regimen of anti-biotics that is required by my doctor in advance of any invasive procedure such as tattooing or piercing. I am not pregnant or nursing. I do not have a mental impairment that may affect my judgment in getting the tattoo
Neither the Artist nor the Tattoo Studio is responsible for the meaning or spelling of the symbol or text that I have provided to them or chosen from the flash (design) sheets
Variations in color and design may exist between the tattoo art I have selected and the actual tattoo when it is applied to my body. I also understand that over time, the colors and the clarity of my tattoo will fade due to unprotected exposure to the sun and the naturally occurring dispersion of pigment under the skin
A tattoo is a permanent change to my appearance and can only be removed by laser or surgical means, which can be disfiguring and/or costly and which in all likelihood will not result in the restoration of my skin to its exact appearance before being tattooed
I release all rights to any photographs taken of me and the tattoo and give consent in advance to their reproduction in print or electronic form. (If you do not initial this provision, please advise and remind your Artist and the Tattoo Studio NOT to take any pictures of you and your completed tattoo!).

I agree to reimburse each of the Artist and the Tattoo Studio for any attorneys' fees and costs incurred in any legal action I bring against either the Artist or the Tattoo Studio and in which either the Artist or the Tattoo Studio is the prevailing party. I agree that the that the courts of [YOUR STATE] in [COUNTY OF YOUR STATE WHERE SHOP IS LOCATED] shall have personal jurisdiction and venue over me and shall have exclusive jurisdiction for the purpose of litigating any dispute arising out of or related to this agreement
I acknowledge that I have been given adequate opportunity to read and understand this document, that it was not presented to me at the last minute, and I understand that I am signing a legal contract waiving certain rights to recover against the Artist and the Tattoo Studio.

If any provision, section, subsection, clause or phrase of this release is found to be unenforceable or invalid, that portion shall be severed from this contract. The remainder of this contract will then be construed as though the unenforceable portion had never been contained in this document.
I hereby declare that I am of legal age (and have provided valid proof of age) and am competent to sign this Agreement or, if not, that my parent or legal guardian shall sign on my behalf, and that my parent or legal guardian is in complete understanding and concurrence with this agreement.
I HAVE READ THIS AGREEMENT, I UNDERSTAND IT, I AGREE TO BE BOUND BY IT.
Print Full Name:


___________________________________


Date of Birth:


________________


Address:


___________________________________


Telephone:


________________


Signature of Participant:


___________________________________


Date:


________________


Signature of Parent or Guardian if Participant Is a Minor
and by their signature they, on my behalf, release all claims that both they and I have.


Signature:


___________________________________


Date:


________________